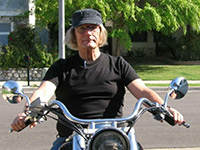 After graduating SRHS in June 1961, I attended SRJC for two years, graduating in 1963 with an AA Degree in Engineering. However, Professor Milton Hoen, my Calculus instructor who was a survivor of one of Hitler's concentration camps, got me interested in math and I changed my major when I continued my education at Cal Poly, San Luis Obispo. I graduates with a BS Degree in Applied Math in 1965, got a secret clearance and spent the next eleven years working as a computer programmer on Air Defense systems in Southern California.

The last four years, on a whim I started night law school and four years later, to the surprise of almost everyone, graduated in the top 15 percent of my class (which included the three-year full time day students) and was hired by the Orange County's DA's Office where I spent the next 27 years before retiring with a lucrative pension.
I really enjoyed my years at SRJC and think they were the most pleasurable in my schooling. Mom was the assistant to Chester Beck, the Dean of Men at SRJC, and I was like one of the family as far as the faculty was concerned. Many clubs were active on campus then and I was a member of the Engineer's Club. There were numerous others such as the Veteran's Club, the Men's Luncheon Club, the Women's Club and others too numerous to remember. I fondly remember events such as Character Day and the races around campus with basically unmotorized go-karts each club build. The plays were great too, West Side Story and Mr. Roberts being of professional quality.The last time I stopped by a fellow math student was then the calculus teacher, but being as old as I am (74) I assume he's now retired too. Dennis Fujita is his name.
And then there were Pioneer Days on campus when I, an 18 and then 19=year-old, thought attendees who'd graduated during the 1950s were ancient people whom I suspected were barely able to function and needed nursemaids. SRJC has an excellent nursing program and "back in the day" they still wore nursing uniforms with aprons and funny white hats. I donate to the local hospital's Memorial Foundation and today it's difficult to tell the nurses from the visitors. Not that it makes any difference. I'd like to visit and see if I can locate an old classmate named Art Agnew who would have graduated the same year I did [1963].